With charming buildings and beautiful water views, the O'Neill is a wonderful place to hold your next private party, corporate event, wedding, or fundraiser. For pricing, availability, and more information, contact rentals@theoneill.org or call (860) 443-5378.
sea porch
---
This charming outdoor porch on the back of the historic Hammond Mansion has a picturesque view overlooking Long Island Sound. The Sea Porch is a great location for a smaller reception, cocktail party, or luncheon. It can accommodate approximately 50 people for a standing reception with limited seating available.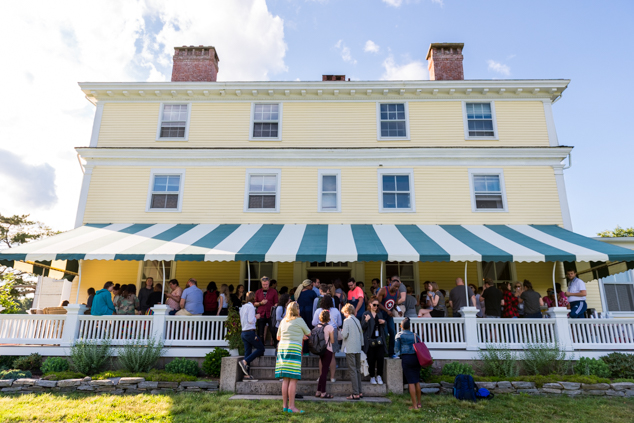 ---
sunken garden
---
This beautiful lawn, overlooking a stunning view of the Long Island Sound, is a perfect wedding and party venue from late spring to early autumn. The space works well with tents of various sizes, and your guests can enjoy the scenic view by both day and night. The Sunken Garden can accommodate up to 300 for a seated dinner.
---
amphitheater
---
This amphitheater-style outdoor theater space was built by the O'Neill's founder and dedicated volunteers in the 1960s. It is ideal for events like a wedding ceremony where you may want a stage with audience seating for your guests. Bench seating rises up in a semi-circle around a stage, nestled in a lowered area next to the Barn and the Dina theaters. The Amphitheater seats about 200 people. Renters may wish to supply chairs to use with the bench seating.
---
edith oliver theater
---
The Edith Oliver Theater, named after one of the O'Neill Theater Center's most beloved dramaturgs, sits on a spacious lawn below the O'Neill's two towering, historic beech trees. The wooden platform stage is surrounded on three sides by bleacher-style seating, perfect for a meeting or party. The Edith Oliver seats about 125 people, or slightly more with an optional first row of chairs.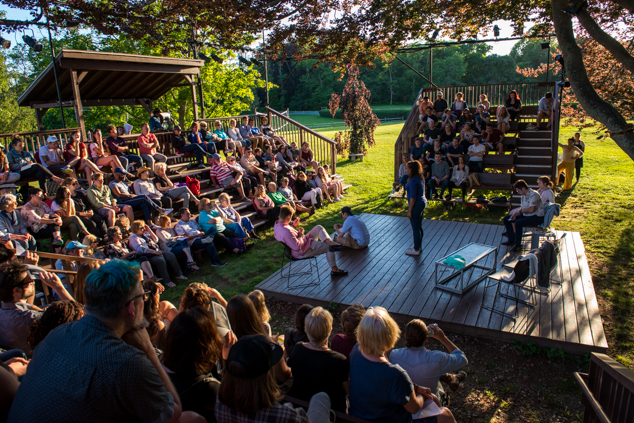 ---
blue gene's pub
---
The Pub is great for casual, smaller events, holding up to 50 people indoors and more if the attached patio is used. This space serves as an actual working pub during the summer, and many renters have fallen in love with its quirky aesthetic. The layout features a bar with stool seating, a small stage, and a main floor suitable for dancing or pub-style seating.
---
nelson & aida white house
---
Moved to the property in the 1980s, the former Von Winkle Mansion once known as "Ironsides" offers lovely indoor reception and meeting spaces, as well as an outdoor patio. This elegant home serves as residential and office quarters for the O'Neill during much of the year, but the open first-floor parlor, living room, and Founders Room are often available for private parties and receptions. Indoor capacity is approximately 75 people.
---
private event pricing
---
Private Events Minimum 4 Hours Pub, Patio, & Lawn: $500/hour Sea Porch & Conference Room: $400/hour White House: $300/hour Additional venue pricing below.
---
---
Fall in love with the the Eugene O'Neill Theater Center's Waterford, Connecticut, campus. Situated on 11 acres, 19th-century mansions, farmhouses, cottages, and barns dot the historic property which opens up to a rolling lawn with panoramic views of the Long Island Sound. Massive Copper Beech trees, a lighthouse inspired cottage, beautiful barns, and a white gazebo add to the New England charm. Centrally located two hours from New York City and Boston, the perfect venue to host your wedding.
general information
---
• Only one event per day
• 11 acres of sweeping lawns, stately trees, and spectacular gardens
• On-site wedding ceremonies
• Bride's dressing room
• O'Neill staff present throughout entire event
• Up to 300 guests
• Event insurance provided
• Nearby hotel accomodations
• Centrally located between New York and Boston on the scenic Connecticut shoreline
---
pricing
---
Ceremony & Reception Sunken Garden: $4,000 Barn: $5,500 Ceremony Only Outdoor Ceremony: $2,000 Indoor Barn Ceremony: $3,000 What we provide: Exclusive 12-hour rental period, access to our premier vendors, parking on site, membership to O'Neill summer season (audience level), fully appointed bridal suite, campus attendant on site for duration of event.
---
---
sign up to receive more information